Two new Leptophyes species from Italy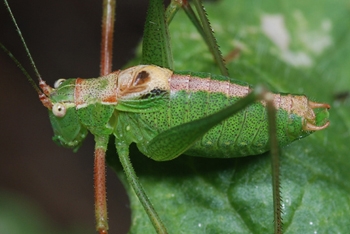 In a recent volume of Zootaxa two new species of Leptophyes from southern Italy have been described: L. calabra from Calabria and L. sicula from Sicily.
The species are closely related to the widespread L. punctatissima and the recently described L. lisae from Greece. The species can be identified by a combination of morphological and bioacoustical characters.
Distribution of the L. punctatissima - group in southern Europe: L. punctatissima (orange), L. calabra (asterisk), L. sicula (square) and L. lisae (upturned square).
Source: Kleukers, R.M.J.C., B. Ode & P. Fontana 2010. Two new cryptic Leptophyes species from southern Italy (Orthoptera: Tettigoniidae). Zootaxa 2506: 26–42.
Available at http://www.mapress.com/zootaxa/2010/f/zt02506p042.pdf (open access)