Swiss Orthoptera app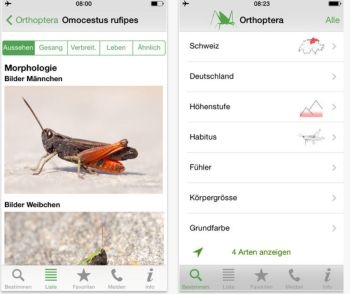 Florin Rutschmann and Christian Roesti have made an Orthoptera app for the 119 species from Germany and Switzerland. Most information is also available on www.orthoptera.ch, but the multi-entry key is only available in the app. The app is in the German language and key is available in French, English and Italian.

The key is based on choices for easy-to-see characters like colour, size and shape of antennae, but also information about the location (country part and elevation). Filling in any available characters narrows the number of species down.

All species have a comprehensive description, including text, distribution maps of Switzerland, Germany and Europe (GBIF), photos and sound recordings. Sound recordings can be listened to while watching an animated oscillogram, which is a very instructive feature.

Observations can be sent directly into databases of Observado.org or Webfauna (Switzerland). Using such a comprehensive app will potentially yield a high percentage of trustworthy observations.
This would be a great tool to also include other European species and other European languages. For the moment the app is only available for Apple but there are plans to produce it also for android. 

http://www.orthoptera.ch/info-app-wiki/orthoptera-app