Sphingonotus caerulans in the Netherlands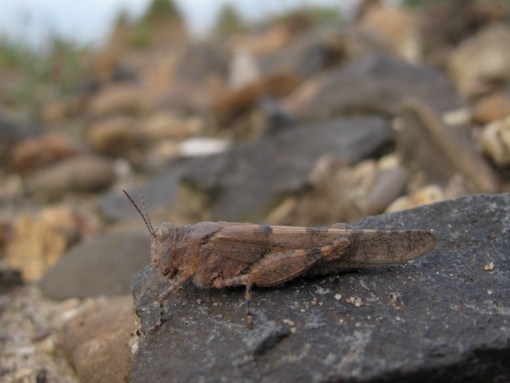 On July 18, 2010 a small population of Sphingonotus caerulans was discovered in the centre of Rotterdam, the first record for the Netherlands. The site, an abandoned railroad yard, was destroyed in the weeks after the discovery. Later the species was discovered on the Maasvlakte, a large industrial peninsula, constructed in the 1960's in the North Sea. Apart from these two western localities Sphingonotus caerulans was found near Arnhem and Nijmegen, close to the border with Germany. The species seems to be established in the Netherlands.

It is not clear if the species has reached the Netherlands on its own or that some specimens have hitched a ride on a train or eggs have been imported with pebbles or sand. A few specimens have been collected and they will be checked by Oedipodinae specialist Axel Hochkirch from the University of Trier.
An overview of the Dutch records can be found at http://waarneming.nl/soort/view/70080