Revision Bradyporinae of Turkey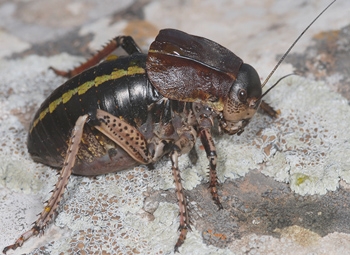 In a recent Zootaxa paper Mustafa Ünal has revised the Bradyporinae of Turkey. Bradyporinae are very large ground-dwelling bush-crickets which live in open fields where the males produce a loud song. Despite their large size and loud song they are notoriously difficult to find. Until now the genera Bradyporus and Callimenus were distinguished, but the latter is now placed as a subgenus to Bradyporus . In the richly illustrated paper no less than five new species are described in this species-poor group.
Source: M. Ünal 2011. Taxonomic review of the subfamily Bradyporinae (Orthoptera: Tettigoniidae; Bradyporini; Ephippigerini) of Turkey, with description of new species and the relationship of the taxa. Zootaxa 2899: 1-42.